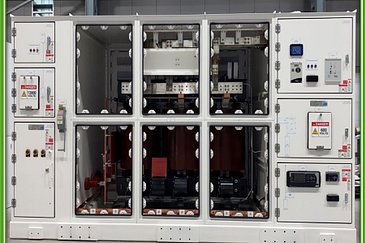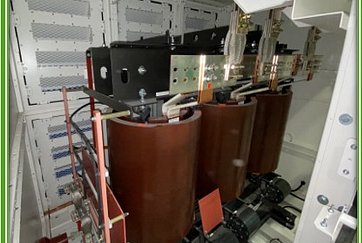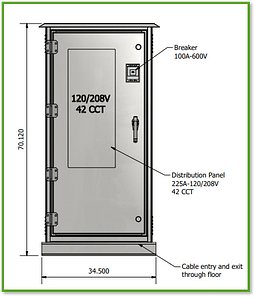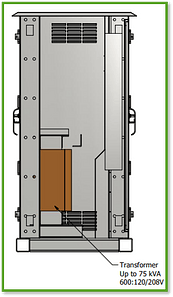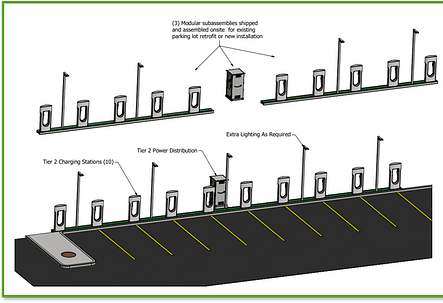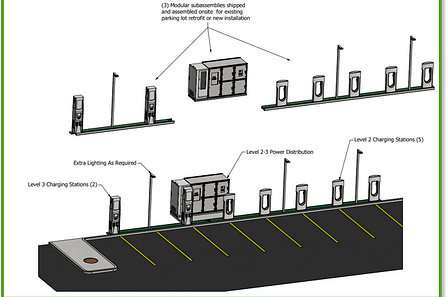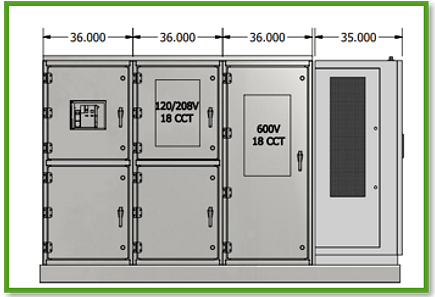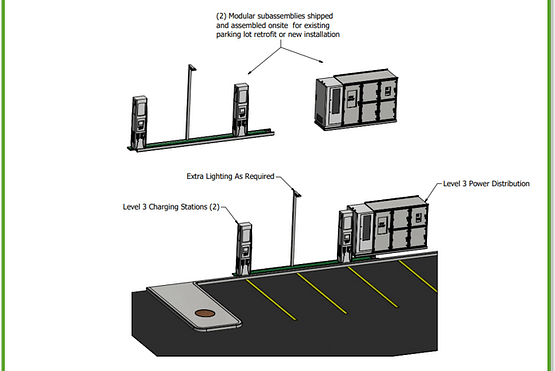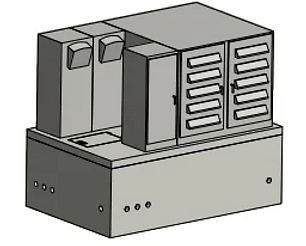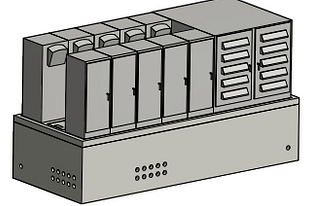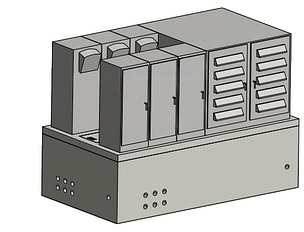 Integrated 1000 kVA Station
Integrated 1500 kVA Station
Integrated 500 kVA Station
Enerquest EV Connect will power all of your EV charging requirements.
What is a Charging Station?
An EV charging Station allows you to charge your electric vehicle.

There are three different levels; Level 1, Level 2, and Level 3. As well as a combination of Level 2 and 3.

Each level comes with its own charging speed, cost and infrastructure to sustain the charging system.

EnerQuest provides connectivity of Level 2, 3 and combination of Level 2 and 3 to the power distribution systems.

EnerQuest can also provide solar canopies with our EV Connect Solutions.
EV Charging Solutions Design
EnerQuest EV Connect Level 2, Level 2/3 and Level 3 Kit Soltions come complete with the following:
Fully integrated charging stations

Factory assembled

5 parking space blocks

Pre-wired level 2 chargers

Easily secured onto screw piles, concrete pad or concrete caissons

Options:
- Pedestrian lighting
- Solar Panel Canopy
Shipped on standard transport
Level 2, Level 2/3, and Level 3 Kit Solutions
EV Charging with Enerquest EV Connect
EnerQuest can provide the power needed to ensure that your stations will always be able to provide a charge

Brand Agnostic EV Connect Solutions

All of EnerQuest Fully Integrated EV Connect Solutions are:
- Certified by a Recognized Accredited Approval Agency
- Outdoor Rated Metal Enclosed Switchgear
- Tamper Resistant
- Assembled on HSS Tube Base Frame
- Sandblasted and Powder Paint Primer and Powder Paint Top Coat Finish.
EnerQuest can enhance the EV Connect with solar canopies providing renewable energy to your EV charging systems.